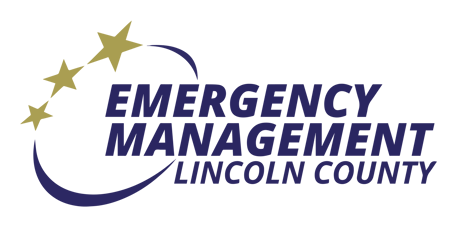 Job Position Title
Emergency Management Specialist

Department
Emergency Management

Full/Part-Time
Full Time

Compensation
Salary up to $34,800.00 annually

Job Description:
The Emergency Management Specialist (EM Specialist) will be responsible for assisting with planning, preparedness, response, and recovery work for the Lincoln County Emergency Management office. Similar to the structure of the Incident Command System, this position will primarily handle duties that fall under the Finance/Admin Section Chief and the Planning Section Chief. These duties will include assisting with time management, procurement, cost tracking, processing claims, resource management and tracking, mapping, documentation, and other duties as described below.

The EM Specialist is not a supervisory position.

Essential Duties and Responsibilities:
The EM Specialist shall be responsible for assisting the Director and Deputy Director with all aspects of emergency management in Lincoln County as defined by the Oklahoma Emergency Management Act of 2003.
Maintain effective relationships with county agencies of law enforcement, fire departments, EMS agencies, and all other agencies in emergency services. Individual will facilitate relationships with Lincoln County Emergency Management and local, state, tribal, and federal government agencies as needed.
Assist with the coordination of activities with the Local Emergency Planning Committee (LEPC) and attend meetings when possible.

Attend meetings with organizations and committees throughout Lincoln County to spread disaster awareness and preparedness as needed.

Attend training to gain skills and position-specific qualifications throughout the year.

Maintain administrative paperwork as required by the county in regards to inventory, 911 addressing, and other items as needed.

Assist the Deputy Director with paperwork related to the Oklahoma Medical Marijuana Authority (OMMA) and the certificate of compliance process.

Assist the Director with floodplain paperwork related to the Oklahoma Medical Marijuana Authority (OMMA) and the certificate of compliance process.

Have a advanced working knowledge of word processing software, spreadsheet software, and other software programs that may be used in an office setting.

Serve as the primary contact for 911 addressing matters and attend trainings as required for addressing.

Process 911 addressing, storm shelter, and other GIS-related requests in a timely manner. Maintain records and update as needed.

Maintain a county email address that will only be used for county purposes.

Serve as the receiving officer for the emergency management office.

Assist with preparedness, response, mitigation, and safety training of the community, volunteers, and other public or private groups within and around Lincoln County.

Assist with the county emergency management volunteer program.

Work directly with volunteer personnel before and during emergency situations, as well as other planned activities.

Speak effectively to groups of employees/volunteers, public safety employees or the general public as needed.

Assist with annual updates to the Emergency Operations Plan (EOP).

Manage the resources of the emergency management office, ensuring a proper inventory is maintained and equipment is accounted for.

Assist local jurisdictions with preparedness activities, planning for events and incidents, and emergency response as needed.

Assist with the management of private, local, state, and federal grants for the agency.

Training Standards:
The EM Specialist will, within the first 12 months of employment, complete the latest versions of the following courses:
IS-230 – Fundamentals of Emergency Management

NEMO – Oklahoma New Emergency Manager Orientation

IS-100 – Introduction to the Incident Command System

IS-200 – ICS for Single Resources and Initial Action Incidents

ICS-300 – Intermediate ICS for Expanding Incidents

ICS-400 – Advanced ICS

IS-120 – An Introduction to Exercises

IS-2200–Basic Emergency Operations Center Functions

IS-29 – Public Information Officer Awareness

G-191 – Incident Command System/Emergency Operations Center Interface

IS-240 – Leadership & Influence

IS-241 – Decision Making & Problem Solving

IS-242 – Effective Communication

IS-244 – Developing & Managing Volunteers

Certificates, licenses, and registrations must be maintained in accordance of Oklahoma statutory requirements for emergency managers.
Individual must possess a valid Oklahoma Driver's License and will complete Emergency Vehicle Driving Training (EVDT) annually.

Physical Demands:
The EM Specialist must be willing and able to perform all job-related travel associated with this position; have and maintain the physical and mental stamina required to perform the work and to accept the physical discomforts and/or dangers associated with the work, including work under conditions of heavy physical exertion, extreme heat, smoke or dust, and to lift and carry heavy objects. The duty station for this position will be primarily office-based, working under normal office conditions will be required.

Special Requirements:
Must be able and willing to perform all job-related travel in-state and out-of-state when necessary, including overnight travel. Percentage of travel time: Generally, up to 15%. May be asked to operate a county-owned vehicle from time to time.

This job description is not designed to cover or contain a comprehensive listing of activities, duties or responsibilities that are required of the employee. Other duties, responsibilities and activities may change or be assigned at any time with or without notice.

The EM Specialist will be issued a county-owned cell phone and expected to answer it when reasonably possible.

Reasonable Accommodation:
Any qualified applicant with a physical or mental impairment that substantially limits his/her ability to participate in the application process and desires a reasonable accommodation, must notify Human Resources, at mmcfee@lincolncountyok.org of the need for an accommodation, identify the impairment, and identify the requested accommodation

Equal Opportunity Employment
Lincoln County, Oklahoma is an equal opportunity employer and does not discriminate on the basis of genetic information, race, religion, color, sex, sexual orientation, age, national origin, or disability.