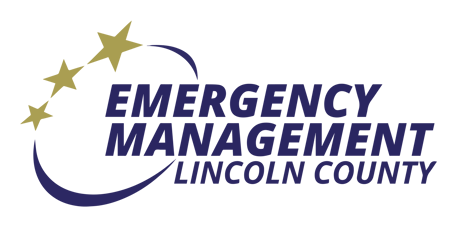 Lincoln County Emergency Management (LCEM) consists of three full-time employees and lots of volunteers throughout the county. The office, when originally formed, had one part time employee. After a few years, it grew to a full time employee, later adding a part time person and so on until the structure we have today.
The offices have been located in several locations in Chandler over the years and is currently housed at 111 N Sandy Lane, just north of Highway 66 on the east side of Chandler. LCEM maintains an Emergency Operations Center (EOC) at the Lincoln County Courthouse. This room has several radios and computers, allowing for the central coordination of emergency responses throughout the county. The EOC is mostly used for severe weather monitoring and response.
LCEM operates a fleet of four pickups. Two F250s and two Dodge 1500s. These trucks have been built to support on-scene operations with marker boards, radios, monitors for sUAS operations, radio caches, and other equipment to support the local response.
LCEM also has a multi-agency command trailer that features several radios, an office space, and a large work area in the back. This trailer can carry the two ATVs the agency has as well as supplies and other equipment. This trailer is being retrofitted to serve as an air operations command post for drone and air operations.
The sUAS program began in the Summer of 2022 with the purchase of a DJI Mavic Enterprise Advanced 2. The program was incredibly successful within the first few months, the decision to purchase a larger drone was made. LCEM now has a DJI Matrice 30T, which is able to fly in rain and snow, winds up to 45 MPH, with an average flight time of 40 minutes per battery pair, and several cameras and sensors. These drones have been used to support searches for missing children, manhunts, wildfire response, damage assessments, radio tower inspections, search warrant overwatch, and other missions.
Director - Cody McDonell
Cody started with LCEM in March 2022 as the Deputy Director. Cody came from the Oklahoma Department of Public Safety where he served as the Communications Manager for the Oklahoma Highway Safety Office. Before DPS, Cody worked as a Public Information Officer with the Oklahoma State Department of Health. With a background in law enforcement, fire service, and emergency planning, Cody brings an all-hazards approach to the Lincoln County Emergency Management office.
Qualifications
FEMA Advanced Public Information Officer
Logistics Section Chief (taskbook in progress)
Communications Unit Leader (taskbook in progress)
ICS Instructor
Certified Oklahoma Floodplain Administrator
FAA Part 107 Pilot
Oklahoma Certified Reserve Police Officer
Deputy Director - Charlotte Brown
Charlotte started with LCEM December 1, 2021 as the Administrative Assistant and was in charge of the Oklahoma Medical Marijuana Authority certificate of compliance process for Lincoln County. In September 2022, LCEM took over 911 addressing for Lincoln County. Charlotte was instrumental in this transitions and serves as the 911 addressing coordinator for Lincoln County. Charlotte was promoted to Assistant Director in March 2023 and continues her work with OMMA and 911 addressing. Charlotte came from the Lincoln County 911 Communications Center where she served as a dispatcher for several years. Before dispatching, Charlotte worked with the Oklahoma Department of Human Services. With a background in communications, administrative support, and her experience at DHS, Charlotte brings a unique viewpoint to the Lincoln County Emergency Management office.
Emergency Management Specialist - Brandy Thompson
The Role of Emergency Management
The role of emergency management in Oklahoma, as defined by the Oklahoma Emergency Management Act of 2003 and other applicable sources, involves various responsibilities aimed at preparing for, responding to, recovering from, and mitigating the impact of emergencies and disasters. Here is a summary of the key aspects of emergency management in Oklahoma:
1. Coordination and Planning: Emergency management in Oklahoma involves the coordination and development of comprehensive emergency operations plans. These plans outline the organizational structure, responsibilities, and procedures for responding to emergencies and disasters. They are regularly updated, tested, and exercised to ensure preparedness.
2. Preparedness: Emergency management focuses on preparedness measures to enhance the state's readiness for emergencies. This includes conducting training programs and exercises to train emergency management personnel and responders. Preparedness efforts also involve public education campaigns to raise awareness and promote individual and community preparedness.
3. Response: When emergencies occur, emergency management agencies in Oklahoma mobilize and coordinate response efforts. This includes activating emergency operations centers, coordinating resources and personnel, disseminating information, and facilitating communication among responding agencies.
4. Resource Management: Emergency management plays a critical role in resource management. This involves identifying and inventorying resources available for emergency response, coordinating their allocation and deployment during emergencies, and ensuring effective resource utilization to meet the needs of affected communities.
5. Recovery: After an emergency or disaster, emergency management focuses on facilitating recovery efforts. This includes coordinating and supporting the implementation of recovery programs to assist affected individuals, businesses, and communities. Recovery activities may involve financial assistance, infrastructure repair, psychological support, and community rebuilding.
6. Mitigation: Emergency management in Oklahoma also emphasizes mitigation strategies to reduce the impact of future emergencies. This involves identifying and assessing potential hazards, implementing measures to minimize their effects, and promoting resilience in communities through risk reduction initiatives.
7. Collaboration and Coordination: Emergency management agencies in Oklahoma collaborate and coordinate with various stakeholders. This includes federal, state, tribal, and local agencies, nonprofit organizations, private sector entities, and volunteer groups. Effective collaboration ensures a coordinated and integrated approach to emergency management, leveraging available resources and expertise.
8. Compliance and Reporting: Emergency management agencies in Oklahoma ensure compliance with relevant laws, regulations, and guidelines. They maintain records, prepare reports, and follow reporting requirements related to emergency management activities, including incident reports, resource utilization, and expenditures.